The State of Rhode Island Public Education, 2014
A report from RI-CAN
This is RI-CAN's fourth annual comprehensive guide to public schools in the Ocean State: who they serve, how they perform and what they cost.
Research Brief: College Access in Rhode Island
A report from Rhode Island Campus Compact
This report explores the potential opportunities for partnerships between school counselors and Admission Officers as well as the current barriers that are in place that inhibit college access support for students in Rhode Island.

A Stronger Nation through Higher Education: Visualizing data to help us achieve a big goal for college attainment
A report from the Lumina Foundation
"Stronger Nation" offers detailed data arrays that describe degree attainment at the national, state and county levels. The report also provides degree-attainment data for each of the nation's 100 most populous metropolitan regions.


The Attendance Imperative: How States Can Advance Achievement by Reducing Chronic Absence
A policy brief by Attendance Works
With as many as 7.5 million U.S. students missing nearly a month of school each year, it's crucial that state policymakers and education leaders begin tracking attendance data more carefully and holding schools and districts accountable for absenteeism at all ages. A new policy brief from Attendance Works - The Attendance Imperative: How States Can Advance Achievement by Reducing Chronic Absence - describes how several states have developed policies or taken action to help improve student attendance. The brief also outlines the steps that policymakers and legislators can take to help school districts and communities work together to ensure students are in school so they can benefit from classroom instruction. These steps include: building public awareness, tracking and publicly reporting chronic absence rates for schools and districts, using attendance as a metric in school improvement efforts, sharing best practices with educators and parents, and enabling interagency efforts among schools, public agencies and community groups.


Latino Students in Rhode Island: A Review of Local and National Performances
A report of the Latino Policy Institute at Roger Williams University
Latinos currently make up 16.7% of the United States population, and they are the fastest growing ethnic group in the nation. In fact, over the past decade Latinos have accounted for over half of the United States' population growth, with the number of Latinos rising at four times the rate of the rest of the country. Rhode Island, meanwhile, proportionally has the 13th largest Latino population in the US, and in Rhode Island Latinos are actually responsible for all of the state's population growth between 2000 and 2010. Yet along with this burgeoning prominence of Latinos both locally and nationally comes reason for concern regarding Latinos' economic and educational status. As a group, Latinos hold vastly less wealth than White Americans, and such economic disparities tend to be more pronounced Rhode Island, where Latino families also have household earnings that are at least 26% lower than the national Latino average.


Science Standards Win OK in First State with Rhode Island Vote
Rhode Island became the first state to adopt the Next Generation Science Standards after its state board of education voted to approve them. It is one of the 26 lead state partners that helped to develop the standards. At least two other states, Kentucky and Maine, have signaled that they likely would vote on adoption, and many more may follow suit, including California and Kansas.


New Infographics: How Education, Employment Affect Your Health

When it comes to good health, socioeconomic factors like community safety and social support, education, and employment all matter–often to a greater degree than the medical care you receive. Two new issue briefs from the Robert Wood Johnson Foundation and infographics explore research linking education level and employment status to health.
New Report Shows State Higher Education Cuts May Harm Students and the Economy for Years to Come
Across the nation, public higher education systems are facing huge spending cuts, and this is translating to sharp tuition increases that are putting college out of reach for many talented students in low-income families. In Rhode Island, state spending per student has gone down by 25% since the recession began, and tuition at the state's four-year colleges has increased by 37% (almost $3,000/year). Click to read the entire report from the Center on Budget and Policy Priorities.


Rhode Island College Graduation Rates Exceed National Average
According to a new study by The Chronicle of Higher Education, graduation rates at Rhode Island colleges are surpass the national average. Rhode Island's private four-year colleges – Brown University, Bryant University, Johnson & Wales University, New England Institute of Technology, Providence College, Rhode Island School of Design, Roger Williams University and Salve Regina University – cumulatively ranked sixth in the nation for graduation rates in 2010, with a four-year graduation rate of 63.8 percent and a six-year graduation rate of 72.9 percent. The Ocean State's four-year public colleges – Rhode Island College and the University of Rhode Island – ranked 19th in the country and boasted a cumulative four year graduation rate of 34.1 percent and a six-year graduation rate of 57.8. Read a Providence Business News article about the study.


Rhode Island's SAT Participation Rises, But Scores Decline
According to the College Board, the Rhode Island participation rates on the SAT increased 1%, to 65%, among last year's senior class, contributing to a ten-year trend of rising participation rates among public school students.On the SAT scale of 200 to 800, Rhode Island public-school seniors had a mean score of 477 in critical reading (down 5 points from 2011), 480 in math (down 2 points), and 470 in writing (down 4 points). The mean scores for all public-school students nationwide were 491 in reading (down 2 points), 505 in math (down 1 point), and 481 in writing (down 1 point). Click to read the news release from the Rhode Island Department of Elementary and Secondary Education.


New Report Says 18% of Rhode Island Students are Chronically Absent
According to the new report, The Importance of Being in School: A Report on Absenteeism in the Nation's Public Schools, 18% of Rhode Island children were chronically absent during the 2010-2011 school year. The report takes at look at the Providence school district specifcally, which had a 34% chronic absenteeism rate during the same school year, examines when and why children do not go to school, and offers recommendations for reducing the number of absences among students.


National Report Card on 4th Grade Reading Show 34% of Students are At or Above Proficient Level in Reading
Only one in three American fourth graders reads proficiently, according to the National Assessment of Educational Progress. And that test, administered every two years by the U.S. Department of Education, shows that only 40 percent of our fourth graders are proficient at math. According to the report, 35% of Rhode Island 4th graders are at or above proficient in reading, down from 36% in 2009. Rhode Island is ranked 18th nationally for reading proficiency. 43% of Rhode Island 4th graders are at or above proficient in math, up from 39% in 2009. Rhode Island is ranked 23rd nationally for math proficiency.


Federal Budget Cut Threatens Access to AP Exams
As part of the federal budget agreement last December, Congress cut federal financing for programs that offer advanced high school courses to slightly under $27 million, from $43 million the previous year, with only about $20 million to be used to subsidize low-income students' exam fees. Low-income students, who in the past would have been eligible for fee waivers, will now have to pay $15 for each of the first three exams they take and $53 per exam for any beyond that. This cut is impacting low-income students nationwide, including some right here in Rhode Island. Click to read the entire New York Times article.


New Data Available on Civil Rights in American Schools
New data from the U.S. Education Department's Office of Civil Rights shows that African-American students are more likely to face harsh discipline than their peers. The 2009-10 Civil Rights Data Collection (CRDC) collected a variety of information, including student enrollment and educational programs and services data that are disaggregated by race/ethnicity, sex, limited English proficiency, and disability. This collection includes data from a representative sample of schools and districts, representing 85% of the students in our nation's schools. Read WRNI reporter Elisabeth Harrison's report on how Rhode Island schools fare.


Rhode Island Ranks 2nd in the Nation for Teacher Policies
Rhode Island ranks in 2nd in the country (tied with Oklahoma and Tennessee) in the quality of its policies on the teaching profession, according to a report that the National Council on Teacher Quality (NCTQ) recently released. The report awards Rhode Island an overall grade of B-, behind only Florida, which earned a B. The report ranks Rhode Island 5th among all states in progress made since the report was last released in 2009. The report highlights progress Rhode Island has made regarding policies on teacher evaluations, on admission to teacher-preparation programs and on connecting certification to effectiveness.


Rhode Island improves ranking in Quality Counts report on education
Rhode Island ranks 20th among all states and the District of Columbia in the 2012 Quality Counts report on key education indicators, policy efforts, and outcomes. The ranking is a dramatic improvement from previous years. Rhode was ranked 31st among the states in Quality Counts 2011. The improved rankings are largely the result of new initiatives to improve educator quality and of significant improvements last year on the National Assessment of Educational Progress (NAEP), or "The Nation's Report Card."


National Report Says Only One-Third of Fourth-Graders are Proficient Readers
Only one-third of fourth-grade students are proficient in reading on the National Assessment of Educational Progress (NAEP). An examination of different sub-groups indicates that there are large gaps in achievement by income, race, language and disability. This new analysis from Voices for America's Children demonstrates that we have to raise overall student achievement and intentionally close achievement gaps. Rhode Island is one of several states with low proficiency among students with disabilities.


R.I. Students At, Above National Average on All Math and Reading Tests
For the first time in the history of the National Assessment of Educational Progress (NAEP), sometimes called the "The Nation's Report Card," Rhode Island scored at or above the national average of all four mathematics and reading tests. Results released by the National Center for Education Statistics (NCES) show that Rhode Island students in grade 4 scored above the national average in both mathematics and reading. Rhode Island students in grade 8 scored at the national average in mathematics and above the national average in reading. Click to read the Rhode Island Department of Secondary and Elementary Education's (RIDE) news release.


Education has more impact on work-life earnings than other demographic factors
According to a new U.S. Census Bureau study, educational levels had more effect on earnings over a 40-year span in the workforce than any other demographic factor, such as gender, race, and Hispanic origin. These findings come from the report Education and Synthetic Work-Life Earnings, which looks at the economic value of educational attainment by estimating the amount of money that people might earn over the course of a 40-year work-life given their level of education.


Report published on Rhode Island funding formula
The Center for American Progress has published a report by Dr. Kenneth K. Wong, of Brown University, entitled The Design of the Rhode Island School Funding Formula. The Center for American Progress website notes that that "the Rhode Island school funding reform experience shows that sound policy, backed up by independent, empirical analysis, can reverse years of political cynicism." Dr. Wong was a great partner to the Rhode Island Department of Elementary and secondary Education (RIDE) and provided technical assistance during the design of the formula.


New toolkit for preventing chronic absences
Attendance Works recently launched a new interactive toolkit that includes background, research and strategies for communities to study and tackle chronic absence in their schools as a way to increase students' time on task and, ultimately, achievement. The toolkit features five strategies for leading communities and school systems in improving attendance and profiles of cities and selected local programs that illustrate how chronic absences can be reduced effectively.



New High School Regulations Passed in Rhode Island
The Rhode Island Board of Regents for Elementary and Secondary Education passed newly revised high school graduation regulations. For more information, view The Providence Journal article, R.I. Board of Regents approves tougher graduation requirements.


Employers Increasingly Expect Some Education After High School
The New York Times reports that the number of jobs requiring at least a two-year associate's degree will outpace the number of people qualified to fill those positions by at least three million in 2018, according to a report being released Tuesday by the Georgetown University Center on Education and the Workforce. The report makes clear that some education after high school is an increasing prerequisite for entry into the middle class.
Colleges Enroll Record Number
The Boston Globe reports that the nation's colleges are attracting record numbers of new students as more Hispanics finish high school and young adults opt to pursue higher education rather than languish in a weak job market. A study released yesterday by the Pew Research Center highlights the growing diversity in higher education amid debate over the role of race in college admissions and controversy over Arizona's new ban on ethnic studies in public schools.
Release of the Condition of Education 2010
The National Center for Education Statistics released the Condition of Education 2010 report that reviews trends and developments in education, providing state-by-state and regional comparisons. The 2010 report indicates an increase in high-poverty schools throughout the United States. Rhode Island, in particular, has one of the Northeast regions' highest percentages of elementary and secondary school students eligible for free or reduced-price lunch.
Diplomas Count 2010: Graduation by the Numbers - Putting Data to Work for Student Success
With 1.3 million high school students failing to earn a diploma, data-driven strategies have become an essential tool for combating the nation's dropout crisis. The fifth edition of the Diplomas Count report explores how the innovative use of data is driving change in school systems across the country. By profiling efforts under way in four leading school districts, Education Week's journalists delve into early-warning systems that reduce dropout rates by identifying students at risk of failure; consider ways that insights from deep data analysis can result in tailored interventions; and examine how an infusion of federal stimulus dollars can strengthen national and local cultures of innovation built on data.
No Vacation for Bad Behavior
A new report from Connecticut Voices for Children shows that the number of student suspensions has declined statewide, from 7.1 percent in 2006-07 to 5.4 percent in 2008-09, even before a new state law takes effect this summer that aims to reduce out-of-school suspensions. Experts believe the new law, one of the first of its kind in the country, has made schools more aware of the disadvantages for students who miss school, and has prompted administrators to find other ways to discipline students and prevent bad behavior. Education experts say that students often view out-of-school suspensions as a "vacation," and lost school time disrupts schoolwork, contributing to the achievement gap, drop-out rates, and delinquency. Legislators passed the law after hearing that Connecticut schoolchildren lost more than 250,000 school days due to suspensions in the 2006–07 school year.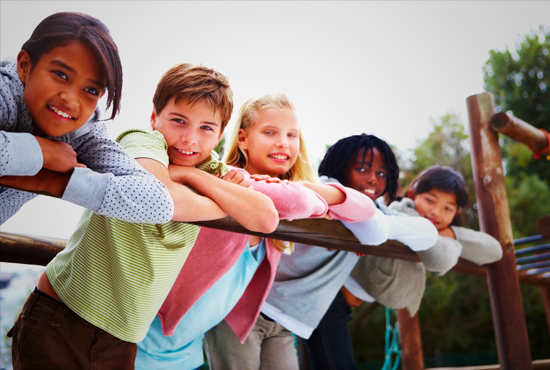 Students Who Repeat a Grade Are Less Likely to Graduate from High School
In 2007, 11 percent of school aged children repeated one or more grades since kindergarten. Data from the National Survey of Children's Health also shows that the likelihood of repeating a grade increases as a child gets older with 13 percent of 12 to 17-year-olds repeating a grade compared to 9 percent of 6 to 11-year-olds. Students who repeat a grade are more likely to leave school without a high school diploma. This puts them on track for future economic distress. See the Education section in Data Across States to access national and state-level data. New data for the nation as a whole and individual states include:
Children ages 1 to 5 whose family members read to them fewer than 3 days per week
Children ages 6 to 17 who repeated one or more grades since starting kingergarten
New Report on Poverty and Segregation in Urban Schools
A new report published by www.diversitydata.org, "Segregation and Exposure to High-Poverty Schools in Large Metropolitan Areas," ranks public, primary schools in the 100 largest U.S. metropolitan according to racial/ethnic segregation and exposure to concentrated poverty schools.The report is based on data drawn the diversitydata.org website, which includes similar data for 362 metro areas.Designed for use by the public, the media, and researchers, diversitydata.org goes beyond many similar demographic websites by including information on school characteristics such as racial/ethnic composition, segregation, and exposure to high-poverty schools, as well as information on health, education, neighborhood conditions, and housing opportunities. Additionally, the website has interactive features allowing any user to easily create profiles for specific metropolitan areas, as well as customized rankings according to chosen indicators.
Analysis of Reading and Mathematics Test Results for 11th Grade Students
Rhode Island Kids Count has prepared an analysis of the NECAP Test Results for 11th Grade Students, showing the percentage of students who are substantially below proficient in reading and math in Rhode Island. Data are shown for the state as a whole, for sub-groups of students and for individual school districts.


Release of Reading by the End of Third Grade Matters Issue Brief
Read Rhode Island KIDS COUNT's latest Issue Brief entitled Reading by the End of Third Grade Matters. The Issue Brief covers the development of early literacy skills from birth through grade three, data on early literacy achievement in Rhode Island and recommendations for improving reading proficiency rates in the early grades. Read the article, Most RI Fourth Graders Not Proficient in Reading, or view the press release.
New Brief on Homeless Children and Youth in U.S. Schools
A Critical Moment: Child & Youth Homelessness in Our Nation's Schools, a new brief from First Focus and the National Association for the Education of Homeless Children and Youth, summarizes recent federal data as well as findings from a national survey of school districts and state departments of education. Analysis in the brief of recently released federal data shows that the number of homeless children and youth identified in public schools has increased for the second year in a row, and by 41% over the past two school years. The economic downturn was cited most frequently as the reason for increases in child and youth homelessness, followed by greater school and community awareness of homelessness, and the foreclosure crisis.



Rhode Island Adopts Education Funding Formula
The Rhode Island General Assembly has enacted an education funding formula for allocation of state aid to school districts based on student need and student enrollment. For more information about the formula, read Education Commissioner Deborah Gist's Op-Ed in The Providence Journal.


Public Supports DREAM ACT
A new poll of Americans comissioned by First Focus shows strong support for the DREAM Act, federal legislation that would provide undocumented students brought to the United States as children with the opportunity to earn permanent legal status upon meeting certain requirements.


An education funding formula, hailed as a breakthrough, faces its critics
By David Scharfenberg, Providence Phoenix
For years, Rhode Island was one of just two states in the union without a funding formula for its public schools. And then, for a time, it was the only state with that dubious distinction...
Why Reading By Third Grade Matters
Read the newly released KIDS COUNT Special Report, Why Reading by the End of Third Grade Matters. According to the report, reading proficiency by the end of third grade is a critical benchmark in a child's educational development. Millions of American children reach fourth grade without learning to read proficiently. Read about why reading matters and what we can do to raise the bar and close the gap for children in Rhode Island in the new KIDS COUNT Special Report.


Governor's FY2011 Budget Request Snapshot
Rhode Island KIDS COUNT has prepared the following document which examines the provisions contained within the Governor's FY2011 Budget Request. Click to Access Governor Carcieri's FY2011 Budget Request Snapshot: Implications K-12 Education in Rhode Island.
The FY2011 Budget Request Snapshot: Implications for Health Insurance Coverage for Children and Families is also available.
Snapshots for other issue areas related to child well-being will be available soon!